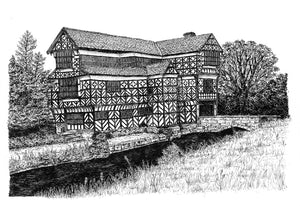 T E Shepherd Art & Illustration
Little Morton Hall, Cheshire
Regular price
$19.20
$0.00
Unit price
per
Tax included.
Little Morton Hall, Cheshire
This iconic Tudor manor house has a personal significance to myself as it was just round the corner, and almost within sight, from where I studied writing and visual arts at art college. 
Little Moreton Hall, also known as Old Moreton Hall, is a moated half-timbered manor house 4.5 miles southwest of Congleton in Cheshire, England. The earliest parts of the house were built for the prosperous Cheshire landowner William Moreton in about 1504–08, and the remainder was constructed in stages by successive generations of the family until about 1610. The building is highly irregular, with three asymmetrical ranges forming a small, rectangular cobbled courtyard. A National Trust guidebook describes Little Moreton Hall as being "lifted straight from a fairy story, a gingerbread house". The house's top-heavy appearance, "like a stranded Noah's Ark", is due to the Long Gallery that runs the length of the south range's upper floor. The house remained in the possession of the Moreton family for almost 450 years, until ownership was transferred to the National Trust in 1938. 
Prints are printed using the fine art giclée process on acid free, cotton rag archival paper. The inks used are UV resistant, so your print will look beautiful for an incredibly long time.
All prints come with a certificate of authenticity and signed.
Unmounted prints are wrapped and shipped in a sturdy cardboard tube. Mounted prints are backed and wrapped and available upon request.
Available in three sizes: small (A5 - 6x8", mounted to 10x8"), medium (A4 - 8x11", mounted to 11x14") or large (A3 - 11x16", mounted to 16x20"), each limited to a run of 75.
---