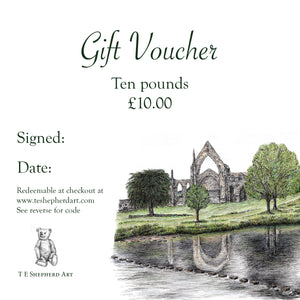 T E Shepherd Art & Illustration
Gift vouchers
Regular price
$12.33
$0.00
Unit price
per
Tax included.
Are you spoiled for choice with all of our beautiful drawings? Not sure if your loved one would prefer a bookshop or an Oxford scene, or even that Suffolk church...?
A gift voucher for a friend or relative is the perfect gift, so that they can make their own choice. Our gift vouchers come in denominations of £10.00 and are the perfect gift!
We can send either directly to you or to the recipient, and all vouchers come in a signed greetings card.
To use the voucher online, there will be a discount code on the reverse of the voucher. This can be entered at the checkout at www.teshepherdart.com
NB. If you would like a gift voucher worth £50.00, please change the quantity to 5 of £10 = £50.00. This can be sent as 5 £10.00 vouchers or one £50.00 voucher; please let us know at the checkout which you'd prefer.
---