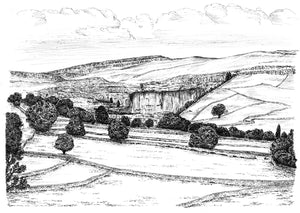 T E Shepherd Art & Illustration
Malham Cove, Yorkshire Dales
Regular price
$19.20
$0.00
Unit price
per
Tax included.
Malham Cove, Yorkshire Dales
Malham Cove is a large curved limestone formation 0.6 miles north of the village of Malham, North Yorkshire. It was formed by a waterfall carrying meltwater from glaciers at the end of the last Ice Age more than 12,000 years ago. Today it is a well-known beauty spot within the Yorkshire Dales National Park. A large limestone pavement is above the cove.

Prints are printed using the fine art giclée process on acid free, cotton rag archival paper. The inks used are UV resistant, so your print will look beautiful for an incredibly long time.
All prints come with a certificate of authenticity and signed.
Unmounted prints are wrapped and shipped in a sturdy cardboard tube. Mounted prints are backed and wrapped and available upon request.
Available in three sizes: small (A5 - 6x8", mounted to 10x8"), medium (A4 - 8x11", mounted to 11x14") or large (A3 - 11x16", mounted to 16x20"), each limited to a run of 75.
---