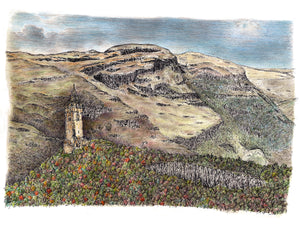 T E Shepherd Art & Illustration
Wallace Monument, Stirlingshire, Scotland
Regular price
$19.20
$0.00
Unit price
per
Tax included.
Wallace Monument, Stirlingshire, Scotland
The National Wallace Monument (generally known as the Wallace Monument) is a 67 metres (220 ft) tower on the shoulder of the Abbey Craig, a hilltop overlooking Stirling in Scotland. It commemorates Sir William Wallace, a 13th- and 14th-century Scottish hero.
The tower is open to the public for an admission fee. Visitors approach by foot from the base of the crag on which it stands. On entry there are 246 steps to the final observation platform, with three exhibition rooms within the body of the tower. The tower is not accessible to disabled visitors
Prints are printed using the fine art giclée process on acid free, cotton rag archival paper. The inks used are UV resistant, so your print will look beautiful for an incredibly long time.
All prints come with a certificate of authenticity and signed.
Unmounted prints are wrapped and shipped in a sturdy cardboard tube. Mounted prints are backed and wrapped and available upon request.
Available in three sizes: small (A5 - 6x8", mounted to 10x8"), medium (A4 - 8x11", mounted to 11x14") or large (A3 - 11x16", mounted to 16x20"), each limited to a run of 75.
---