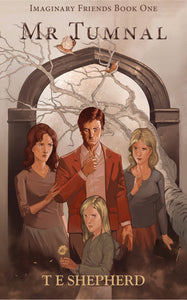 T E Shepherd Art & Illustration
Mr Tumnal (Imaginary Friends: Book 1)
Regular price
$3.83
Sale price
$11.51
Unit price
per
Tax included.
Everyone has an idea of their ideal family. Not everyone's become real.
Lewis Tumnal is a man with the life he always dreamed of: a job he loves, a wife who loves him and the smartest, sassiest daughter he could wish for. It's also the imaginary life of Louis Tumnal, an English teacher and lonely bachelor.
When he joins a photography class he meets Kathryn Summers and the real and the imaginary become entwined, Louis and Kathryn need each other to free him from his childlike and innocent world and the magic that has bound him for twenty-two years. But at what cost?
---