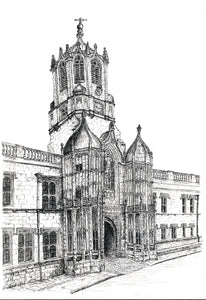 T E Shepherd Art & Illustration
Tom Tower, Christ Church College, Oxford
Regular price
$19.20
$0.00
Unit price
per
Tax included.
Tom Tower, Christ Church College, Oxford
Tom Tower is a bell tower in Oxford, England, named after its bell, Great Tom. It is over Tom Gate, on St Aldates, the main entrance of Christ Church, Oxford, which leads into Tom Quad. This square tower with an octagonal lantern and facetted ogee dome was designed by Christopher Wren and built 1681–82. The strength of Oxford architectural tradition and Christ Church's connection to its founder, Henry VIII, motivated the decision to complete the gatehouse structure, left unfinished by Cardinal Wolsey at the date of his fall from power in 1529, and which had remained roofless since. Wren made a case for working in a Late Gothic style—that it "ought to be Gothick to agree with the Founders worke"—a style that had not been seen in a prominent building for a hundred and fifty years, making Tom Tower a lonely precursor of the Gothic Revival that got underway in the mid-18th century. Wren never came to supervise the structure as it was being erected by the stonemason he had recommended, Christopher Kempster of Burford.
Prints are printed using the fine art giclée process on acid free, cotton rag archival paper. The inks used are UV resistant, so your print will look beautiful for an incredibly long time.
All prints come with a certificate of authenticity and signed.
Unmounted prints are wrapped and shipped in a sturdy cardboard tube. Mounted prints are backed and wrapped and available upon request.
Available in three sizes: small (A5 - 6x8", mounted to 10x8"), medium (A4 - 8x11", mounted to 11x14") or large (A3 - 11x16", mounted to 16x20"), each limited to a run of 75.
---