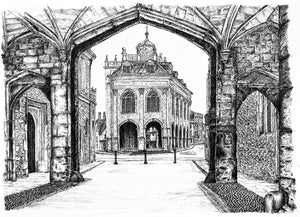 T E Shepherd Art & Illustration
Abingdon County Hall *Original*
Regular price
$575.98
$0.00
Unit price
per
Tax included.
Abingdon County Hall
The County Hall, completed in 1682, is on the south side of Abingdon Market Place. It was built by stonemason Christopher Kempster, who worked with Sir Christopher Wren on rebuilding churches in London after the Great Fire of 1666. 
Originally used as a courtroom for the Berkshire Assizes, the County Hall has also been a venue for entertainment and since 1761 the venue for the traditional 'bun throwing' to commemorate royal events. A museum was first set up in the building in 1919.
---