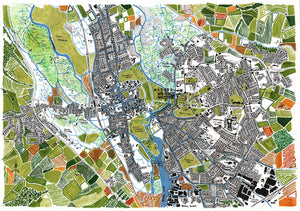 T E Shepherd Art & Illustration
Inside My Head: an alternative view of Oxford
Regular price
$38.40
Sale price
$64.00
Unit price
per
Tax included.
Inside My Head: an alternative view of Oxford
Oxford-on-the-Water is a place of canals, boat people, labourers who toil Iffley Docks, the university dons, farm workers of Marsh Town, and the merchants of Headington-on-the-Hill. This is an illustrated map, based on the real history of Oxford, but in a world that is a complete invention from inside my head. 
Prints are printed using the fine art giclée process on acid free, cotton rag archival paper. The inks used are UV resistant, so your print will look beautiful for an incredibly long time.
All prints come with a certificate of authenticity and signed.
Unmounted prints are wrapped and shipped in a sturdy cardboard tube. Mounted prints are backed and wrapped and available upon request.
Available in one size: large (A3 - 11x16", mounted to 16x20"), each limited to a run of 75.
Framed prints available upon request. Large size £65 (print and frame exc. P&P). Please add a note to your order and we will send you an additional invoice for framing and any additional postage. 
Wow
Just wow at the talented artist T E Shepherd , the alternative view of Oxford tells an intriguing story from ' inside my head' and am hoping there will be an intriguing novel to follow !
---