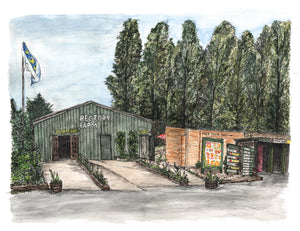 T E Shepherd Art & Illustration
Rectory Farm PYO, Oxfordshire
Regular price
$19.20
$0.00
Unit price
per
Tax included.
Rectory Farm PYO, Stanton St John, Oxfordshire
This is my "giving back" picture as coming here each week during the pandemic was my safe space where I could buy good, locally sourced food in the farm shop and walk the farm picking my own fruit and flowers. There's a simplicity that is even now, post-pandemic, so calming and good for my mental health. Created in Indian Ink and Watercolour.
Prints are printed using the fine art giclée process on acid free, cotton rag archival paper. The inks used are UV resistant, so your print will look beautiful for an incredibly long time.
All prints come with a certificate of authenticity and signed.
Unmounted prints are wrapped and shipped in a sturdy cardboard tube. Mounted prints are backed and wrapped and available upon request.
Available in three sizes: small (A5 - 6x8", mounted to 10x8"), medium (A4 - 8x11", mounted to 11x14") or large (A3 - 11x16", mounted to 16x20"), each limited to a run of 75.
---