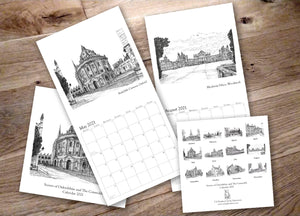 T E Shepherd Art & Illustration
Scenes of Oxfordshire and The Cotswolds 2021 Wall Calendar
Regular price
$6.08
Sale price
$12.16
Unit price
per
Tax included.
Scenes of Oxfordshire and The Cotswolds 2021 Calendar is a month to view wall calendar with your favourite local scenes from my Oxfordshire and Cotswolds collections.
The calendar measures 21cm x 42cm when open and 21cm x 21cm when closed. They come stapled bound with a hole for hanging. It is printed on 170gsm
satin paper with a thicker 300gsm satin cover.
The perfect gift!
I bought this calendar for my mum, who has lived her whole life in Oxfordshire. I think she has a story or a memory for every page! Very good quality print, and wonderful communication from the seller. And, it goes without saying, absolutely stunning illustrations. Will definitely be making more purchases in the future! Xxx
Great quality, fair price!
Really happy with our calendar and will enjoy seeing a new piece of artwork each month! Thank you!
Scenes of Oxfordshire and The Cotswolds 2021 Wall Calendar
Exquisite Drawings
The Cotswolds is full of interesting architecture. Everywhere you look you can see the beautiful Cotswold stone in the buildings. T E Shepherd has captured the finer details of the buildings in Oxfordshire and the Cotswolds. His eye for detail is as if you are looking at photographs of the buildings. They are a delight to see and bring back many happy memories of sightseeing the area in my youth.
Beautiful illustrations
Professional service and stunning illustrations to enjoy a month at a time.
---