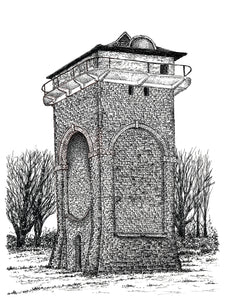 T E Shepherd Art & Illustration
Trow Pool Water Tower *Original*
Regular price
$223.99
Sale price
$294.39
Unit price
per
Tax included.
Trow Pool Water Tower
From the listed building register:
Water Tower. 1909. Local stone rubble with concrete cap, metal platform and tiled roof. PLAN: Square plan with flared base to each side and corner. Ground level entrance at one face to hollow centre. Upper level for lead tank. Projecting metal platform wraps around at upper level. FACADE: Arcaded with one large arch (with keystone, voussoirs and banding) to each face springing from impost that also defines the corner piers flared to base. Two opposite sides: arch is blind with ledge at bottom. '1909' stone date plaque and crest to one blind arch. Other two opposite sides: arch is open to hollow centre with base of arch as slightly recessed wall capped with rough stones. Ground level opening (same detail as large arches) to hollow centre at one face. Above the arches is a wrap-around projecting metal platform supported by 4 brackets to each face, concrete section and hipped roof with flat cap. INTERIOR: One open room at ground level. Upper level for water tank. HISTORY: Built by Major Philip Hunloke to serve the estate Bucknell Manor and the village of Bucknell and used until the 1950s when mains water installed.

---